Events
---
Living with Arthritis
Do you, or someone you care about, have arthritis?
Then this session is just for you!
Come along and let us:
• Bust some myths about arthritis
• Explore what hurts and why
• Loot at a few types of arthritis
• See what you can do to live well with arthritis.
Friday, 2pm-3pm
25th November 2022 from 2pm-3pm
George Town Memorial Hall
To register your interest:
Scan this QR code


OR email: info@arthritistas.org.au
OR call: 1800 011 041
SPACES AVAILABLE
Strength Training Program
Take the first step to a healthier you. The Smoother Mover Strength Training Program is a group exercise program led by a trained exercise professional and designed with those with arthritis in mind.
Register your interest online now
ALL PROGRAMS:
Cost: $15 per session
Bookings: (03) 6228 4824 or email info@arthritistas.org.auRead More
Fun and adventure
Calling all young people living with arthritis! Adventure and connection awaits in the October school holidays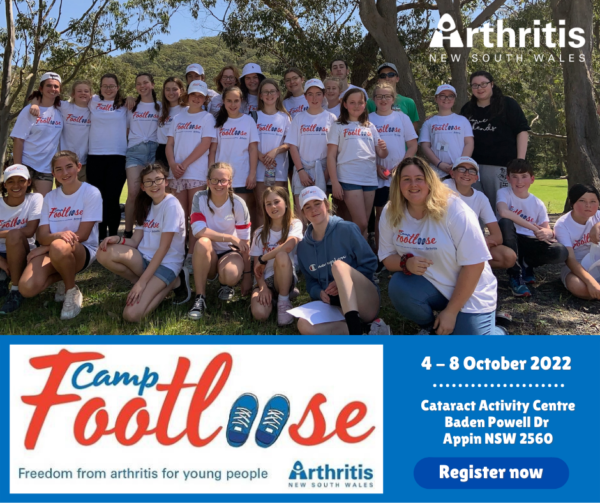 Camp Footloose provides a valuable opportunity for children and young people with arthritis (aged 9 to 18 years) to have fun, meet others like them and share experiences in a supportive environment. It also helps them gain a sense of control over arthritis and their lives.
News
Professor David Hunter & his team of researchers from the University of Sydney and the University of Tasmania are conducting a clinical trial assessing whether stem cell injections can improve joint symptoms and structure for people with knee osteoarthritis.  Please scan the QR code to learn more about the study and become a referring clinician.
We're so excited to have our first donations for the Many Hands project! Thank you so much to Barbara and Alison for these beautiful hand knitted dolls and ornaments.
If you're someone who enjoys knitting, or has done in the past, perhaps you might like to pick up the needles for a good cause – and the potential positive impact it will have on your joint health and mobility.
We've started a new initiative called 'Many Hands' which focuses on using our hands to keep them nimble, while creating arts and crafts items to sell – raising funds to support the ongoing work of our organisation.
To learn more about the Many Hands project, and to get some great Christmas decoration patterns to help inspire you to join us, head to our
Many Hands
page.
Great to have Southern Cross News sharing our message that physical activity is one of the best things you can do to manage and prevent arthritis symptoms. Shirley's story is a great example of how life can improve with the right supports in place. With arthritis being the most reported chronic health condition in Tasmania in the recent census, we are calling for greater focus on prevention programs and education about how to manage and live well with an arthritis diagnosis. Our Smoother Movers Strength Training Program is run by trained exercise professionals and designed with those with arthritis in mind. If you're under the care of a physiotherapist, they will likely recommend a similar program. What's important is you find the program and activities that work for you, as well as the support and understanding to help you live well with arthritis.
You can have arthritis and still get the most out of life. You don't have to stop doing the things you love doing. Contact Arthritis Tasmania on 1800 011 041 for the latest information and for support in living well with your arthritis. Or to request your copy of '10 Steps to Living Well with Arthritis' booklet call the Arthritis Helpline on 1800 011 041.
Congratulations!
Just by learning more about living well with arthritis means you are already on your way to successfully managing your arthritis and lessening its impact on your life.
"Speaking to my local Arthritis Foundation was the best thing I ever did. They have great information and really understand what it is like to live with arthritis"
Read More